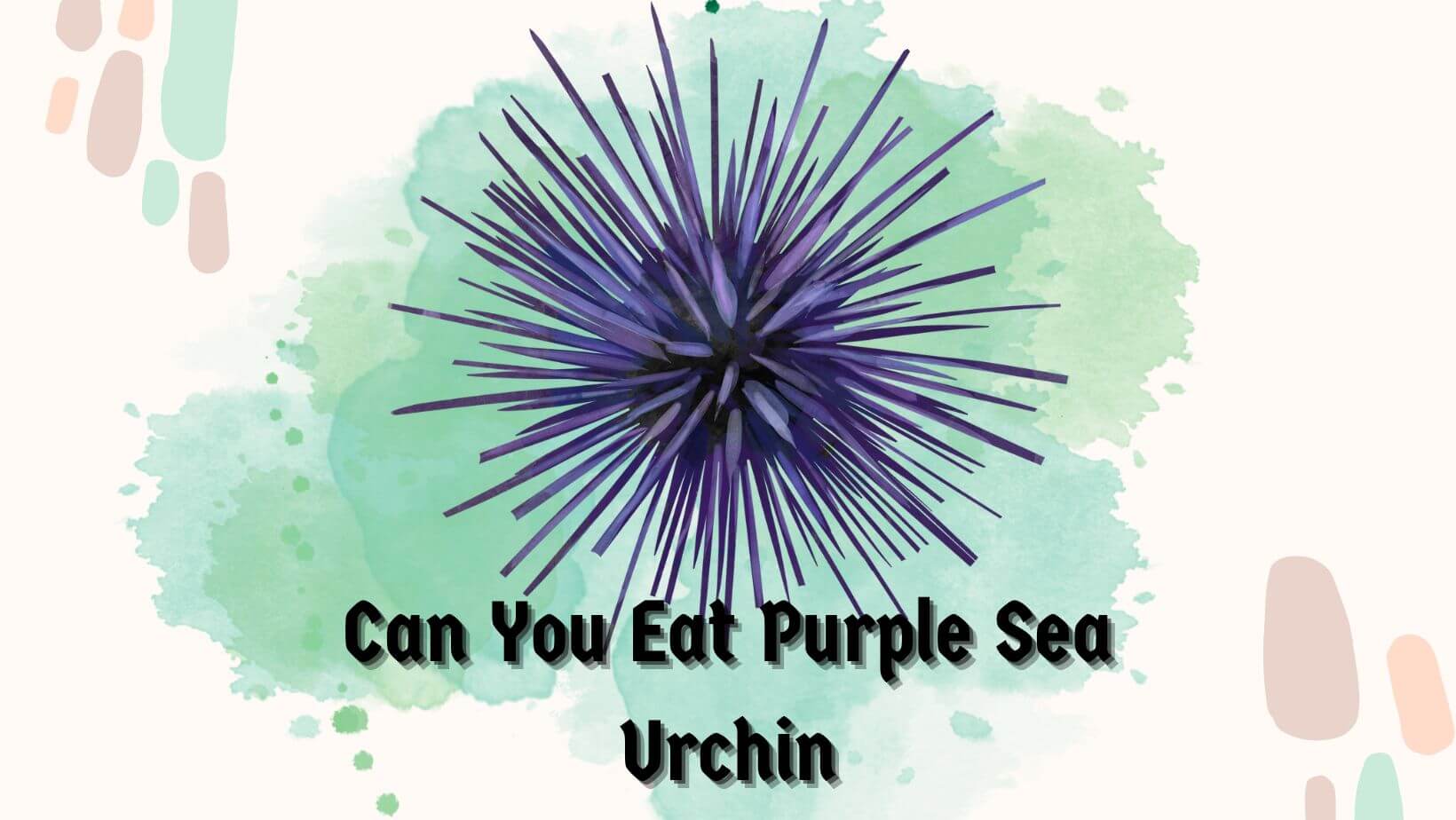 If you are a fan of seafood or want to know if you can eat purple sea urchins, this is the article for you. You are not alone in wondering whether you can consume purple sea urchins.
The purple sea urchins stand out when it comes to unique and intriguing seafood options. You should know that these spinning creatures have gained quite huge popularity not only for their striking appearance but also for their culinary potential.
Therefore, here we will be looking at the world of purple sea urchins, including their nutritional value, edibility, preparation technique, and delicious culinary delight.
Therefore, if you want to know what recipes you can prepare and how to prepare purple sea urchins for consumption, stay tuned. Before I tell you all of these, let's take a quick look at the answer to the intriguing question: Can you eat purple sea urchins?
Table of Contents
Can You Eat Purple Sea Urchins?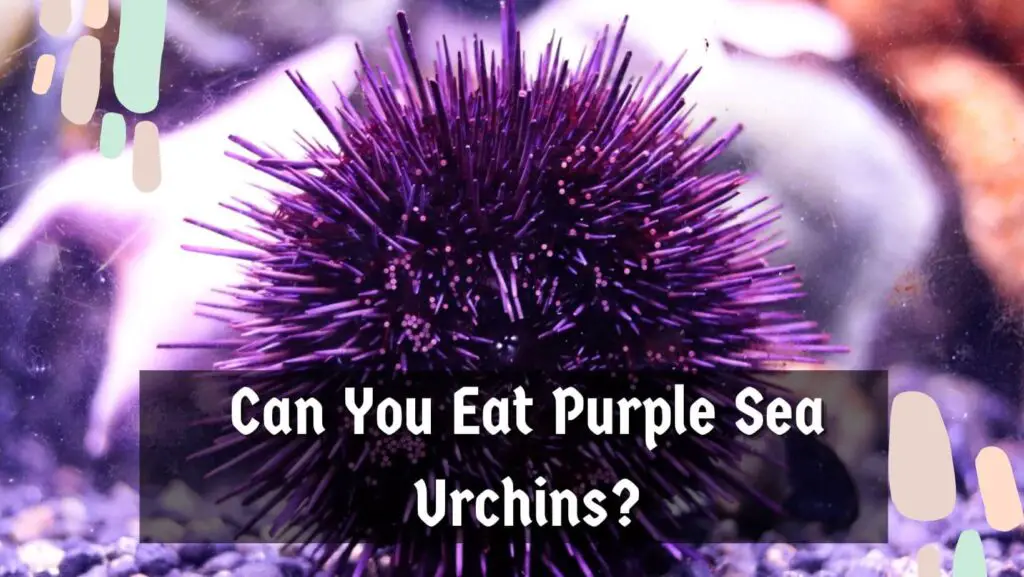 Yes, you can eat purple sea urchins. It has many culinary uses and is considered a delicacy in many parts of the world. Purple sea urchins are particularly famous for their roe, also known as uni. It also offers a range of health benefits as it is a rich source of vitamins and minerals, including vitamin b12, Vitamin C, calcium, and iron.
In addition to this, you will also benefit from its high protein, which makes it an excellent choice for all people who are looking to increase their protein intake. Apart from all these, you should also note that it is known for its heart-healthy properties due to its Omega 3 fatty acid content.
You will find sea urchins having a long history or track record of usage in various cultures worldwide. In Japan, sea urchins are priced for their delicacy and are often enjoyed raw as Sushi or sashimi. The rich, creamy roe of the sea urchin, known as uni, is particularly prized for its unique flavor and texture.
In Mediterranean cuisine, purple sea urchins are often incorporated into pasta and risotto dishes, adding a touch of salty elegance. After knowing that you can eat purple sea urchins, you may want to know where they are abundant. They're typically found along the Pacific coast of North America.
There are many species of sea urchins, but purple ones are smaller, ranging from 3 to 4 inches in diameter. It also tends to have a spherical body covered with long Sharp spines, just like its other subspecies.
You will have to remove these spines when you are eating sea urchins. While removing, you should remember that these spines not only protect against predators for sea urchins but also serve as an identifying feature for this species. Spines of sea urchins have frequently been noticed playing a role in locomotion as well.
Regulations & Sustainability Considerations
If you are thinking of eating purple sea urchins, it is important to ensure that it has been harvested using responsible harvesting practices and sustainability, which are of utmost importance.
You should know that fishing regulations and permits also play a crucial role in ensuring the long-term viability of this resource as well. As I told you, sea urchins are gaining popularity daily as a delicacy for their culinary usage.
Therefore, it is important that recreational and commercial harvesters follow all these regulations to prevent overfishing and protect the marine ecosystem. In addition, many conservation efforts are underway, which need quick progression to restore the balance of a few areas where they can have caused significant ecological impacts.
Research conducted by the University of California, Santa Barbara, has come up with some strategies that can help in the control of sea urchin populations in order to protect kelp forests, which are essential for numerous Marine species.
Preparing & Cooking Purple Sea Urchins
First, you need to find the fresh purple sea urchins. You can purchase it from a local food market or directly harvest it from the Sea bed. However, make sure to handle them with the right technique to ensure both your safety and the well-being of the creature.
If you are collecting sea urchins, please wear protective gloves and protective water boots while using sturdy tools like tweezers or tongs to handle them carefully. In addition, make sure that you are aware of any regulation or local station regarding the collections of sea urchins, especially in the case of particular species.
However, if you're purchasing sea urchins, find the right supplier to ensure it is harvested from regulated water with responsible harvesting practices and sustainability. Finding the right supplier to get fresh, healthy sea urchins for culinary usage is important.
To use it in any culinary dish, you must clean the purple sea urchins properly. Even though cleaning purple sea urchins seems daunting, you can do it very easily if you know the right technique. Here is how you should be cleaning sea urchins.
First, you must start by rinsing off the sea urchin instantly with seawater or cold, clean water.
Once you have thoroughly cleaned the sea urchins, you need to carefully cut off the top using a sharp knife or scissors to reveal the edible parts inside. 
Ensure also to clean any spine or dirt accumulated inside while handling, cutting, or cleaning the sea urchins. 
Lastly, you need to take a spoon and carefully remove all the inside parts, along with its roe, from the sea urchin's shell. 
Before you attempt to eat it, you have no underlying health issue, pre-existing medical allergy to shellfish, etc., or compromised immune system. If you have any, you should consult your medical help specialist before eating any seafood.
Here you can learn, "Eating Sea Urchin Side Effects: 3 Common Ones". You must cook seafood properly if you are consuming it for the first time, particularly any sea urchin.
Culinary Delights with Purple Sea Urchins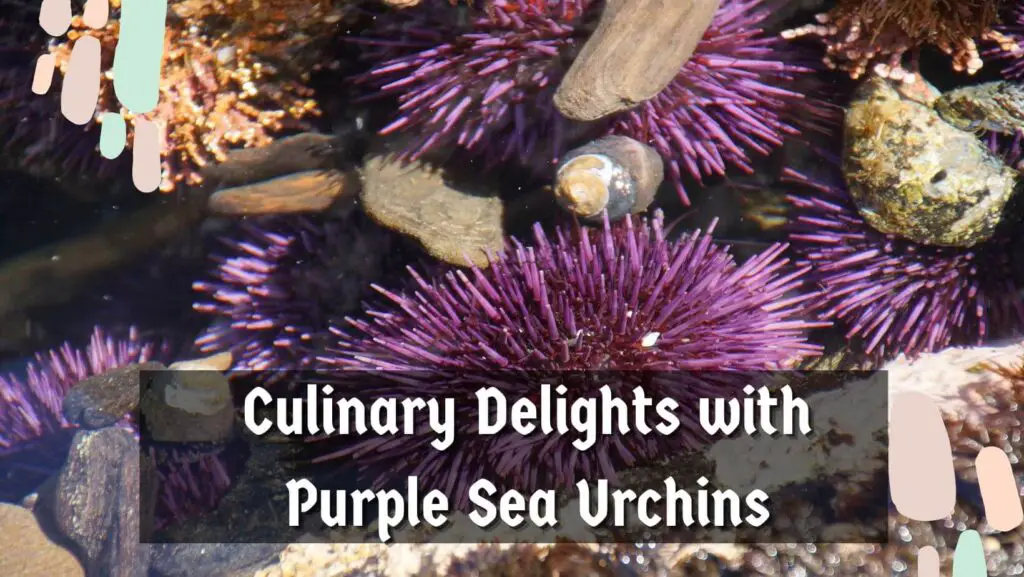 No, when it comes to knowing about the culinary possibility of purple sea urchins, it is vast. You can use purple sea urchins and their unique flavor to elevate various dishes and recipes. Sushi and sashimi preparations are popular choices but have become quite common.
People are experimenting with many culinary dishes using sea urchins to benefit from the salty richness of it as well. In addition, Italian food like pasta or risotto dishes also uses purple sea urchin sauces or its roe to add a luxurious touch.
You can also find many types of sea urchin spread that can be added to appetizers or main courses as a delicacy. Not only this, but you can pair sea urchins with other complementary ingredients as well.
To enhance the flavor of purple sea urchins, you can also use other seafood. You should note that complimentary ingredients are key to enjoying the salty richness of purple sea urchins.
Regarding beverages, white wine like Sauvignon Blanc or a sparkling Prosecco can compliment the sea urchins' brininess. Suppose you are looking for a flavor combination. In that case, you can use ingredients like lemon, zest, chives, and even truffle to accentuate the natural taste of the purple sea urchins, creating a pleasant culinary experience for you and your lovable.
Health Considerations & Allergies
Even though you can safely enjoy purple sea urchins and benefit from their numerous nutrients, it's also important that you are aware of the potential risk as well as allergies they can cause.
Few individuals have reported experiencing allergic reactions to purple sea urchin consumption or seafood consumption, which can range from mild to severe. Therefore, if you are experiencing symptoms like itching, swelling, or difficulty in eating the food, immediately seek medical attention.
People who suspect an allergy or experience any adverse effect after consuming sea urchins should always seek medical attention promptly. Like with any seafood, there is always a risk of contamination, especially if handling practices are not accurate or the store room storage protocols must be followed.
Therefore, if you are looking to ensure food safety, you must purchase the purple sea urchins from a reputable and trusted source that practices good hygienic preparation. Thankfully, the United States Food and drug administration, FDA, has provided proper resources and guidelines on safe seafood handling, which can help us mitigate any potential health risk. However, there are also 9 Sea Urchin Health Benefits.
Moderation & Balance in Incorporating Purple Sea Urchins into a Diet
Even though purple sea urchins offer mainly nutritional benefits, you must consume them in moderation and as part of a balanced diet. According to the American heart association, purple sea urchins can safely be consumed at least twice or thrice a week as a part of a healthy heart diet.
However, the serving size will depend upon the recipe; but I recommend you enjoy it as a part of a diverse and well-rounded experience. There is nothing wrong with eating sea urchins daily, but too much of any food can cause adverse effects.
Talking about benefits, the Omega 3 fatty acids present in the purple sea urchins can contribute towards heart health and reduce the risk of cardiovascular diseases. But, note that individual dietary needs and health conditions will also vary. Hence, it's best to consult a healthcare professional or nutritionist for personal advice on seafood consumption.
Conclusion
Even though purple sea urchins offer visual interest and culinary delight, it is important to harvest and prepare them properly using the right technique. Also, you must handle them gently and wash them thoroughly during preparation.
Even though you can consume purple sea urchins, it should be in moderation as it may also cause adverse effects if eaten too much, just like any other food. People have also reported stomach cramps and vomiting after eating too much sea urchin for the first time.
Therefore, if this is also your first time tasting purple sea urchins, you should start with a small amount to determine how your taste buds and your digestive system react to it. If you think everything is fine, you can consume more later on.
I hope I have given you all the information required to learn the question, can you eat purple sea urchins? If you find the article helpful, then consider sharing it. Your share will help many people learn about the edibility of purple sea urchins and how they should prepare them. Check our other helpful guide, where we have shared many sea urchins recipes to enjoy a delightful dining experience. See you in the next post, till then, take care and goodbye.